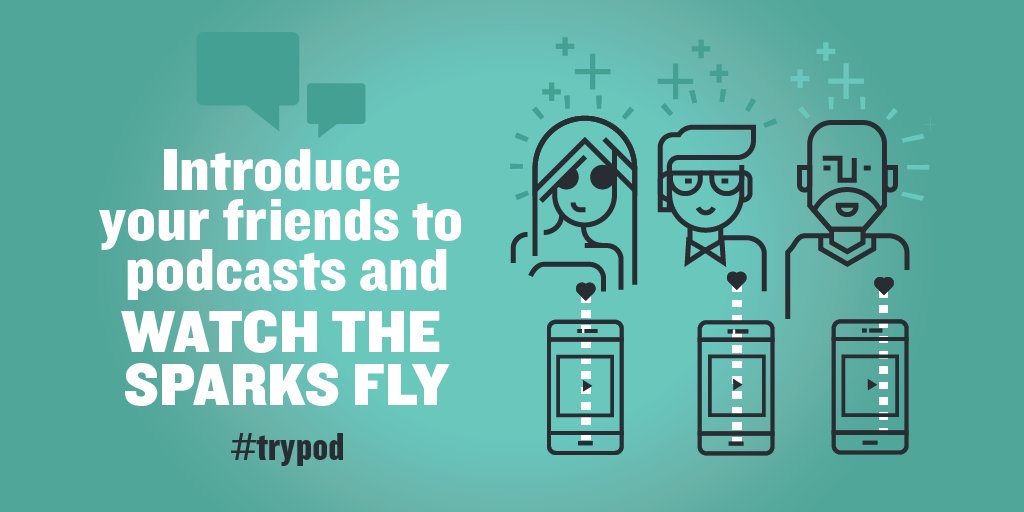 Followers of this website know that I like throwing the occasional blog post into the podcast mix and it's been a long time since I've done that. I also have some topics in mind that I want to talk about, but today is not that day. Today is a toddler yelling in the background a pile of audio to edit kind of a day. I am so excited about all the stuff coming up on the show…great contributors, awesome segments, and some cool new stuff. But it doesn't lend itself to a lot of blogging time.
Instead, I'm here to talk #trypod month. This is an initiative put together by a bunch of the big podcast hosts to reach the 80%. As in the 80% of people who don't listen to podcasts. The best way to reach them is through the 20%, that is you out there who do listen to podcasts. You are the best ambassadors to tell your friends and your community why they should listen and show them how to do it. You know it's free an easy…they don't.
To inspire you, I'm doing my roundup of the 5 podcasts I'm talking about this month. These are the ones I'll be sharing with my peeps, and in the interest of staying away from self-promotion, they are not my shows. (Although, of course, you're welcome to share those, too.)
The History Chicks. Days when these ladies release a new episode are my favorite days. The History Chicks is historical girl talk. Every episode they pick a woman in history, everyone from Queen Nzinga to Marie Antoinette to Hattie McDaniel (first African-American to win an Oscar.) The two hosts research the women separately (their research is excellent,) and then come together to tell the story. They've been doing it for years and their back catalog is phenomenal.
How to Be a Girl. This is one of my favorite parenting podcasts. It's on break right now so it's a great time to get caught up. Independent producer Marlo Mack tells you what it's like to single parent her transgender daughter. What I love about this is that she's not perfect, she's a mom like any of us just trying to figure out how in the world to navigate this. She is on a journey and you get to go with her and you'll be surprised how ordinary her parenting journey is. How to Be a Girl is part of a podcast collective called The Heard, be sure to also check out First Day Back.
XX Will Travel. In my 20s, I was a traveler. I worked in summer camps across the U.S., spent six months in New Zealand, and spent most of those years having a quasi-nomadic existence where I would work like a grown-up for awhile and take off. When I discovered this show I thought it would be more nostalgia for me than anything else…obviously life is much different now…but these ladies do an awesome job of speaking to a traveler wherever you are on the journey. Whether you are about to take that big round-the-word trip or you just need to plan your next girls' weekend or road trip, these ladies will help you get there, and I love the women solo traveler angle they bring to it.
Art Curious. I slept through art history in college (the room was warm,) but I do love good storytelling and that's what Art Curious is. The host tells the stories behind great artists and works of art, and like all good storytelling it's a little history, a little mystery, and a little ridiculous. You don't have to be someone who spends every weekend in a museum to appreciate this show.
German Genealogy Girl. I wasn't going to recommend any brand-new shows…I've been burned by that before and she's literally one episode in. But I am also one-quarter German, love genealogy, and have struggled with the research on this part of my family so I'm super excited that this exists and want to give her a boost.
Five shows that are subscribed to in my phone. And all hosted by women, who get neither the press nor the respect in this space. What are you listening to? What are you sharing? Tell us, and use the hashtag #trypod in social media all month long.
Happy sharing!
Kris